My daughter's 1st birthday party was a such a huge hit. I put so much detail into everything from the food, to decorations, to the games. Even with strep throat the party was very successful.
First off I started planning for her party months in advance. We started by buying caterpillars online & growing them so we could have live butterflies at her party.
Grow Your Own Butterflies
It seemed like a good idea at the time. Since it was early spring we didn't have any butterflies out yet. It was much more than we bargained for. The experience was nice but next time I would rather just send the kids out to catch them instead of growing them in our home. :) We had them displayed from a tree in the pavillion that it came with. Everyone at the party thought it was very neat.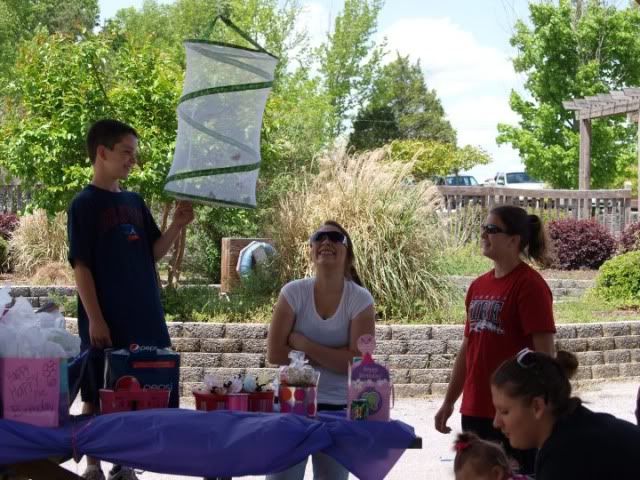 Our invitations were custom made from an invitation company. They did an ok job. Since we got a huge discount we couldn't complain too much. We bought a banner (which we later had everyone sign) for our daughters party & used it as the background, & took some photos with our daughter holding some flowers. It was a postcard type of invitation. Every one loved the detail in them. It said "Flutter on over to Celebrate Dakotah's 1st Birthday" & the back had all the information on it.
The decorations took a little time but it was very easy. We made egg carton caterpillars for the table decorations. We also made butterflies out of egg cartons with some piping. It was very easy to do and inexpensive. We hung those in the trees to make the illusion the were flying.
We bought the party supplies from birthdayinabox.com. The price were average but I found this style & just fell in love with it.We had purple, pink , and blue balloons, tablecovers, plasticware. We also bought these planting pots that looked really cute. They were attached with butterflies on them. We used them to hold the plasticware.
We had a few games. I got a huge jar & filled it with gummy worms. I cut some wrapping paper and placed it around the jar. I had all the guest guess how many were in them. It was a big hit. Everyone wanted them. We also played a game with toliet paper. I had the guest pair in twos & they had to wrap a partner using two rolls of tp to look like a cocoon. This one was alot of fun to do & watch. Everyone got into it. We played a game called drink like a butterfly. We made foam pettels at placed them around the neck of a little hugs juice. The rules were you had to drink all the juice first to win, but only from a straw. We had a tie so them two went head to head. We also made butterflies out of clothespins & if any guest said the birthday girls name the guest that heard them got their pin. We gave out bug kits that we purchased from the dollar tree.
Food. We did hamburgers & hotdogs. I would recommend anyone to skip the hamburgers. It took to long to make 60 hamburgers! We also had chips & dip. We made butterflies out of ziploc bags & had candy in them. We placed them around the whole party so they could be at arms each of all the guest.
For favors we Purchased some red buckets from valentines day clearance. We made some homemade rice crispies, cut them into butterflies, & drizzled them with white chocolate. We bought some butterfly bubble wands, We also made scented playdoh. That was very easy but after awhile the playdoh didn't smell that great. We used to original recipe for playdoh & just added a pack of koolaid which also changed it colors.
The party was a great success & we are already planning my daughter's 2nd birthday party. I love to plan parties. :)